RH In-Store: 破地獄 Scattered Purgatory (Guruguru Brain) LIVE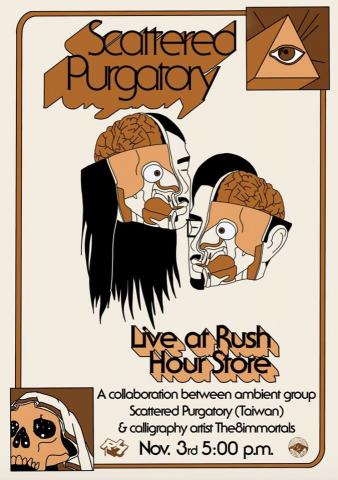 Rush Hour Records, Spuistraat 116, Amsterdam
破地獄 Scattered Purgatory (Guruguru Brain)
Live at Rush Hour Store
●Free event starting at 5pm
A Improvisational collaboration between ambient group Scattered Purgatory from Taiwan & Beijin-based Calligraphy artist The8immortals.
------------------
Scattered Purgatory 鬥法 European Tour 2019
鬥法 (Wizardry Battle) is a collaboration between Beijing-based calligraphy artist Qian Geng a.k.a. The8Immortals and us, combining the unearthly soundscape and transcending calligraphy performance art into a volcanic live experience.
------------------
Scattered purgatory / 破地獄
Formed in Taipei,Taiwan in 2014 and comprised of members Lu Li-Yang and Lu Jiachi. Scattered Purgatory is a name derived from a Taoist ritual which expiates the souls of the innocent from a state in between life and death and then at last, release.
Taipei, where two wheeled transportations are popular, the basin city of dense population and humidity had inspired their music. If a cinematic analogy were used to describe the duo's sound it would be equivalent of the massive use of long shots in Taiwan's 1980s wave of new cinema.
Scattered Purgatory employs a similar approach with an oriental narration geographically and spiritually.
Scattered Purgatory had toured Japan(2014(), Australia (2015), Europe (2016) , China (2018). At is confirmed to share their talent at New Forms Festival (Canada, Vancouver) in September 2019, and touring North America/Europe afterwards.
Also, they had shared stage with Russian Circles (2014, Taipei), Necro Deathmort (2016, UK), Bismuth (2016, UK), Li Jianhong (2017, Beijing), Mamer & IZ (2017, Beijing).
Music - https://gurugurubrain.bandcamp.com/album/lost-ethnography-of-the-miscant...
>> The8Immortals / 暗八仙
The 8 Immortals is a calligraphy performance project started by Beijing based Dongbei calligraphy/visual artist Qian Geng at 2014.
This project enters on oriental religion symbols and folklores, and focuses on experimenting with calligraphy, installation art and performance art.
The title of the project stems from the Daoism legend "The Eight Immortals", when the "xian"(Immortal) themselves are becoming invisible, only their relics are left for mortals to witness. Qian Geng created his aggressive, dark and ritualistic calligraphy performance based on this motif- with an installation writing brush crafted for each performances.