PLLEK VALENTINE SPECIAL W/ GUTS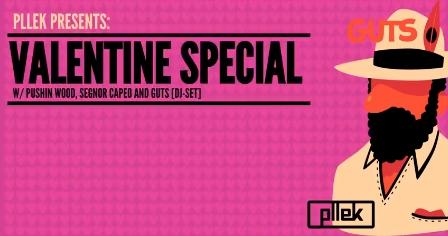 Friday, 14 February, 2020
Pllek, Tt. Neveritaweg 59, 1033 Wb Amsterdam
Speciaal op Valentijnsdag een bovengrondse underground clubnacht met de DJ's Pushin Wood, Segnor Capeo en GUTS (dj set). Trommel je partyminded vrienden en vriendinnen op, hoe meer zielen, hoe mee vreugd. Ons feestje is voor iedereen - love birds, singles, de heartbroken ones en iedereen daartussen in. Vier de liefde met ons!
VALENTINE SPECIAL
w/ Pushin Wood, Segnor Capeo and GUTS [DJ-set]
TIME: 22.30 - 03.00
ENTRANCE: Free
Vooraf een hapje eten met je lievelingsmens? Wij serveren een 5-gangen chef's choice Valentijnsdiner voor 2 personen. Prik samen van hetzelfde bordje, staar elkaar diep in de ogen. Voetje vrijen onder de tafel mag ook natuurlijk. Reserveer gauw een tafeltje, want we hebben maar beperkt plek voor deze diner special. De link om te reserveren komt spoedig online.
- - -
About GUTS
Originally concealed in the credits of the record covers under the heading "composition and production", Guts secured his fame as a beatmaker by trimming the soundtrack of Alliance Ethnik, Big Red or the Svinkels. Since hip hop broke into his life, somewhere in the 1980s, Guts has devoted it all his time and energy. Chasing for him thousands of samples, spending nights looking for the perfect beat or the precisely set melody, the look directed towards the West, towards the Bronx. So in 2014, after twenty-five years of unfailing devotion, he decided to magnify this music which, by the richness and quality of the sources used, made him the producer he is today.
About PUSHIN WOOD
What started as a skateboard movie continued as a soundsystem. Pushin Wood ended up being a DJ-duo on its own, based on good vibes and quality instead of styles. Over the last 5 years they have been focusing on the successful LOFT parties in Groningen NL. These nights have become legendary with a lot of upcoming talents but also international guests. On top of that they really feel home at Pllek. If you have been to Pllek during kingsday you saw them in action. We're happy they're joining us for this night full of love music.
About Segnor Capeo
Segnor Capeo is a Dj and curator at London Fields Radio in East London, the french boy managing the communication of the label Wahever Records, his main style is Tropical Afro Beat but dedicated to all things, he's able to make you travel all around the world in less then one hour, various skills on the decks and can't stop dancing with the crowd. It's an eclectic fruity - wax - salad, freshly concocted after years of digging all over the earth!