MANISDRON (GOAT, JP), OPTICAL MACHINES & MORE @ OCCII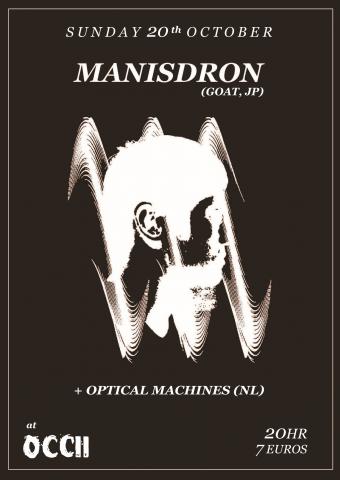 OCCII
20:00 - 00:00 A night of live experimental music.
[MANISDRON (GOAT, The NOUP, JP)】
Takafumi Okada has played Occii twice over the past years as drummer for Goat & his own band The Noup. Now back and playing solo as Manisdron – a blast of rhythms, electronics and charged vocals.
He uses voice, drums, synthesizers and composed electronic layers to create a solid hypnotic groove. Sometimes it feels poly-rhythmic, sometimes it feels like hammered beat flowing from him freely during his energetic live performance.
As with his band activities (in Noup & Goat since 2017 respectively) there is a strong influence of Post Punk, EBM and Krautrock. In the past, he self-released 2 EPs as CD and a cassette. Takafumi also books experimental shows in his hometown of Okayama.
Links:
https://soundcloud.com/manisdron/
https://www.youtube.com/watch?v=hi2Xgfadt_c
[OPTICAL MACHINES (NL)]
Optical Machines make a pure, authentic impression by combining their creations of sound (scapes) and visuals. Rather than (taking) a static position with flashy laptops they choose an open set-up which invites the audience to their laboratory-like playground. Their set-up contains an obscure variety of modified record players, pattern models, lamps, lenses, cameras and analogue synthesizers to make a both trippy and fascinating show. Optical Machines is a real live show with visuals and sound created on the spot....
+ MORE TBC
DJ crew: Misses BGM (CN,JP) Newly formed BGM selection outift.
7 euros + 1 euro donation asked for Occii Fundraising