Kamma & Masalo's 'Brighter Days' Album Presentation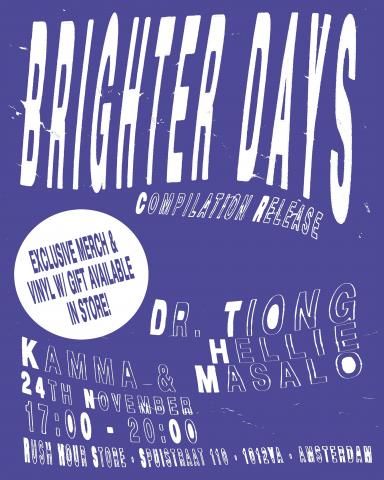 Friday, 24 November, 2023
Rush Hour Store
We´re very happy to announce the continuation of our ´compilation´ series. Kamma & Masalo's 'Brighter Days'!
Named after their party series in town, 'Brighter Days' is a reflection of what Kamma & Masalo play out on a night like theirs. A reflection of deep diggin' for lost cuts whilst at the same time pushing the boundaries with the latest music from their circle of friends (often too be found at the Brighter Days parties too).
A real treasure trove that reflects the depths of their bags. They're going around showing everyone on the globe what's inside their bags and now you can have a sneak peak and see for yourself justifiedly so!
And there's even more brightness on the horizon! There'll be a presentation of the record in the store this friday (24th of Nov from 17:00 onwards) where you'll be able to snatch a copy with some very exclusive goodies only for this friday - for as long as supply lasts.