B. Cool-Aid at Rush Hour Store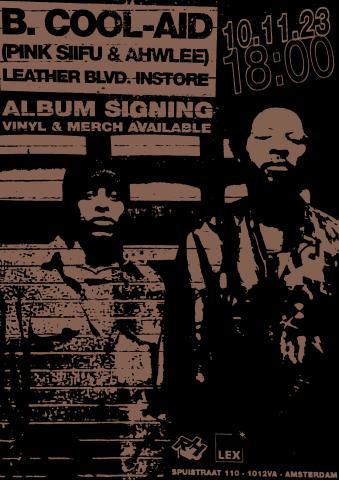 Friday, 10 November, 2023
The Pressure is on! 
B. Cool-Aid live in town on November 10th. 
Consisting out of Pink Siifu and Ahwlee (pronounced Ali) B. Cool-Aid were responsible for, possibly, the best record of the year: Leather Blvd.. Get the record here 
You'll be able to get a taste of what it is like at Leather Blvd. from 18:00 on at Rush Hour Store with the crew and the records/merch.  
For the full experience, they will play from 22:00 onwards at Skatecafe Amsterdam in
a full band appearance with the members:
Pink Siifu (Mc - sampler)  @pinksiifu
Ahwlee (DJ - sampler) @ahwlee_
Mekala Session (drums) @mickey.maestro 
Bryan Hargrove (keys) @b_theory 
A night packed; the live Leather Blvd. experience and a full night of music afterwards (22:00-03:00) 
hosted by 
@rushhourstore 
@rrcmusic.co
@skatecafeamsterdam 
@heatamsterdam 
+1-914-2WASSUP
Get Tickets Here
https://skatecafe.weticket.com/b-cool-aid-live/about
Friday November 10th. 
Skatecafe Amsterdam 
22:00H-03:00H
Skatecafe:
@b.coolaid 
@charmaineleyden & @wrongsal 
#curtmay 
@boyquinten 
Dick & Dick:
@rushhourstore Crew 
All night long
@robzilla3000 
@satoshi.okonkole 
@romanverpaux 
@gropina_ 
@camille__maria 
@andrei_vilcov 
@cris_rushhour 
1900: 
@heatamsterdam presents:
@rrrrrroeldeboerrrrrr 
#YZERDRAAT
Artwork by @dirqiedirq 
Get your tickets now!