Armand Hammer Signing Session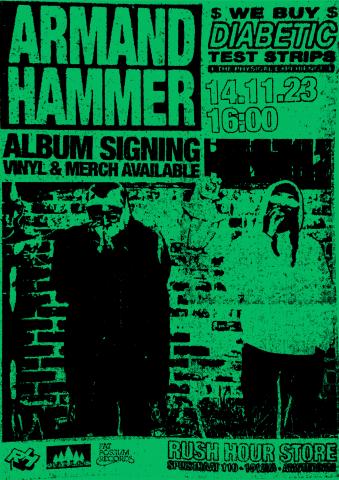 Tuesday, 14 November, 2023
Rush Hour Store
We are excited to announce that we'll be hosting another Armand Hammer in-store at Rush Hour Store! 
Lowkey affair in the shop, combining forces @boyquinten and @anniversary_group hosting the elusive duo on 14/11... you know what to do!
Armand Hammer will present their elusive new album 'We Buy Diabetic Test Strips' ! they will do a signing session at the store prior to their show at Tolhuistuin Paradiso Amsterdam.
So make sure to grab your ticket HERE for their show and drop by the store to get your goodies and get it signed! 
The instore will take place on the day of the show on Tuesday 14th of Nov at 4pm. 
billy woods and ELUCID back together as Armand Hammer, with the follow up to Haram. Enlisting a whole array of producers including JPEGMAFIA, EL-P, Kenny Segal, DJ Haram, Black Noi$e, Messiah Music, P.U.D.G.E, Preservation, August Fanon, Steel Tipped Dove, Child Actor, Sebb Bash, Willie Green & Jeff Markley, they mean business.
Familiar faces like Pink Siifu, Moor Mother, Curly Castro, and Cavalier make contributions too.
Virtuoso jazz musician & composer Shabaka Hutchings shows up on flute, one of several musicians, incorporating live instrumentations to the recordings. 2 discs of the best you might hear this year.
Limited edition of future classic gear. 
Follow the link to get the album here Rush Hour Store
https://www.rushhour.nl/record/vinyl/we-buy-diabetic-test-strips
Instore poster by @dirqiedirq